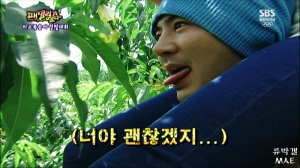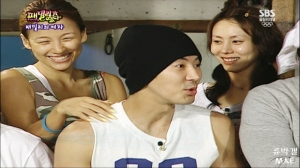 The new SBS show "Family Outing" officially made its hit as the current most popular variety show with episodes aired on the 17th and 24th of August.
In the interview with us, the "Family Outing" producer expressed, "We have invited several guests from the beginning, all of them are popular artists. However, since this show has a high level of interaction and the guests are challenged with their ability to adapt to new lifestyles with different kinds of people and situations. The concept sounds simple, but living altogether is not easy."
"The reason why Junjin's episodes got the highest viewership ratings and got the audience back to "Family Outing" was because he didn't guest in the show, he truly lived together with all other members in the 2 day 1 night trip. His frankness, his sincere caring attitude, his sense of humor, and above all, his being his real self without trying to make a fuss in front of the camera, brought him close to every single team member, encouraging them showing their own sides and abilities."
"The show has been set to a whole new level now. Although many fans ask for the permanent appearance of Junjin, our production team still welcomes other artists to join in and challenge themselves. We believe that after his starting point, Family Outing will continue to receive love and support from the audience."
Source: Star News
English Translations:
LetSayEden@Shinhwa.biz
Pictures: jin-joyze@Soompi
Taken from: FOFanSub WP
-----------------------------------
I really wanna watch this episode very badly. I only managed to watched the 1st part live, the 2nd part failed to load on me. He's really good in those episodes...
Last edited by strawberrybj on Thu Aug 28, 2008 10:03 am; edited 1 time in total
_________________
Jay Chou ♥ Let's go for another millions with Capricorn!
Moderator





Number of posts

: 1293


Location

: ~ Underneath the Blue Sky ~


Warning

:




Registration date :

2008-01-16



Yeah, I want to watch this episode as well! It sounds interesting, heheh. And I also want to see it for Jun Jin~
Friends Of SYP!





Number of posts

: 1650


Age

: 26


Location

: Back from Hiatus~!


Warning

:




Registration date :

2008-01-19



I have never watch family outing, but I wanted too, ~sighs I'll get started one day...
SYP Princess





Number of posts

: 155


Age

: 30


Location

: GA


Warning

:




Registration date :

2008-01-28



I'm glad family outing has some longevity
I really like that show.. hopefully it'll stay on for couple of years hehe

SYP Princess





Number of posts

: 166


Warning

:




Registration date :

2008-04-18



Knowing Junjin's personality, he won't have any conflict or anything like that if he live w/ other people, he is very down to earth, like hwang bo (w/c he is very close with).He is the kind of person that "what you see is what you get",like a cake w/ no icing, just pure softness and natural sweetness. ( Hmmm, that made me hungry)
SYP Princess





Number of posts

: 63


Location

: California


Warning

:




Registration date :

2009-02-04




---
Permissions in this forum:
You
cannot
reply to topics in this forum