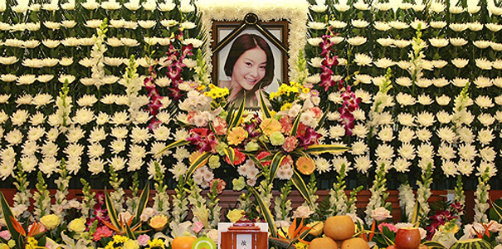 The shock suicide of Boys Before Flowers actress Jang Ja Yun (26) is still causing shockwaves all over Korea and the industry with many speculating over the actual reasons behind her doing so. Theories ranged from contractual woes with her management, lack of appearances (airtime) in Boys Before Flowers, bashing by antis, etc but close friends have revealed that the main reason was probably depression. Jang Ja Yun had hanged herself in her home yesterday with police ruling out any forms of foul play after initial investigations.
Police revealed after investigations that Jang Ja Yun had developed depression after losing her parents in a car accident 10 years ago. Jang Ja Yun was still in high school when that happened and although she got on well with life after inheriting her parent's fortune, she had already suffered a big blow mentally that could not be healed easily. Jang Ja Yun might have looked cheerful and bubbly on the outside normally, but she was horribly scared of being left alone deep inside her heart and highly afraid (phobia) about losing her friends.
According to the police, "Her (Jang Ja Yun) sister has expressed that she had depression all along and it had gotten even worst recently. She would often shut herself in her room when she doesn't have any schedules." Her sister also revealed that in order to forget the pain bought on by her parents death, Ja Yun had tried all sorts of ways including rearing pets but it was to no avail. Visits to the hospital had increased recently to treat herself for depression but no one thought that Jang Ja Yun would eventually choose to commit suicide.
Police received a 119 emergency call yesterday evening from Ja Yun's sister and rushed to the scene. But it was too late when they got there as Ja Yun had already passed away a few hours ago by hanging herself from a railing along her stairs. No will or anything was left behind by her. The last known phonecall that Ja Yun made was to her friend yesterday at 2.30pm which seemed to have foreshadowed of what was going to happen next as she said that she was very tired and wanted to die. Jang Ja Yun's body will be cremated on the 9th.
source:
coolsmurf
KBS 2TV 'Boys Over Flowers' cast - the F4 members Lee Min Ho, Kim Hyun Joong, Kim Bum, Kim Joon, together with Goo Hye Sun and Kim So Eun were at the wake of Jang Ja Yeon (27) on 8th March in Seoul University Hospital.
They had arrived at the wake teary and shocked about the unfateful news of fellow BOF cast Jang Ja Yeon's death.
Meanwhile, the cast of Boys Over Flowers had arrived at Jang's wake on 8th March in the morning at about 7am. They payed their condolences for about an hour and left. When asked about Jang's death by reporters, Lee Min Ho had refused to comment and had simply replied, "Sorry".
Lee Min Ho had arrived at the wake looking really shocked and saddened by the news. And while paying his last respects, he was seen tearing at the wake.
Lee Min Ho's representative said, "The cast had sat there speechless for a long time after hearing the news. Goo Hye Sun has been crying endlessly since the news."
Jang Ja Yeon has debuted in a Lotte CF, and is in the midst of her acting activities after taking a break off her university semester at JoSeon University.
source:
kbites
I'm sure everybody read or heard of this already on allkpop but it doesn't hurt to post it here too considering some might not read allkpop. But, I'm really sad about this. Please rest in peace Jang Ja Yun.
SYP Princess





Number of posts

: 193


Location

: Canada


Warning

:




Registration date :

2008-09-13



man...
why are celebrities commiting suicide these days?

Jang Ja Yun Rest In Peace
SYP Princess





Number of posts

: 239


Location

: Deep inside Junsu's heart


Warning

:




Registration date :

2008-02-20



I just started watching the show...This is hard to believe.

May She Rests In Peace.
SYP Candle Queen





Number of posts

: 713


Age

: 30


Location

: Dubai, United Arab Emirates


Warning

:




Registration date :

2008-07-19



Rest in Peace.

Suicide is never the answer, nevertheless rest in peace.
_________________
No, the pretty boys didn't turn me to Kpop, the
music
did

The world would be a better place, if trash went where it belonged.
SYP Writer





Number of posts

: 557


Age

: 31


Warning

:




Registration date :

2008-03-04



wow, this drama have gone through a lot of hardship behind the scene T_T

RIP for her ...T_T

i felt bad for the cast and crew too....after this, they are returning to filming.... ><
SYP SuperFan





Number of posts

: 2184


Location

: Canada


Warning

:




Registration date :

2008-01-18



OMG it is really so sad to read this ...I just found out ...
unfortunately this has become something that happens often but it is always so tragic to loose someone so young... I hope she rests in peace ...

RIP Jang Ja Yun
SYP Princess





Number of posts

: 85


Age

: 26


Location

: NYC


Warning

:




Registration date :

2009-02-02




---
Permissions in this forum:
You
cannot
reply to topics in this forum