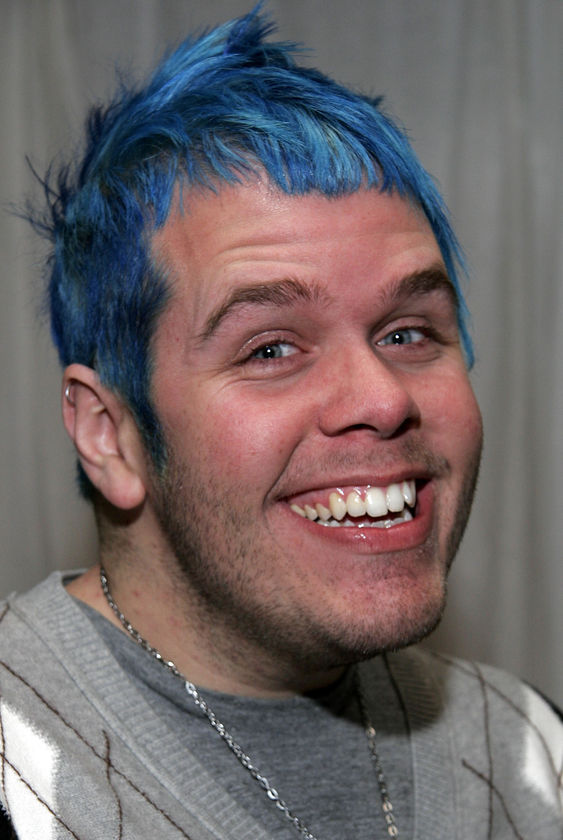 PEREZ HILTON Is officially addicted to KPOP!
He listed WG's "SO HOT" and LEE HYORI "YOU GO GIRL" this time!!!
The most annyoying thing is bunch of retards going on the comment section pleading
for some exposure to their KPOP artists ..
PEOPLE HAVE SOME DIGNITY, WILL YA?
JPOP FANS are even worse! Just like a beggars off the street keep on listing JPOP stars A-Z!
Some are screaming BOA's NAME! Having her US Debut in mind?
Then what about Se7en or Rain? How about asking PEREZ doing an interview with them? huh?!
All i can say is that the situation is out of hand ... It's a total embarrassment!
PEREZ really need to take this comment seriously!

Gaytards: Perez, i fear for your life if you do plug DBSK and dislike their songs, as their fanbase have no social life and would commit crimes against you. They will want you DEAD!
And we cannot have our favourite blogger dead now can we?!
and for those of who donno the consequences of exposure ...
Here is what your favorite singer will receive:
Nice mv.. although.. dont really know THE FUCK da girl trying to say..
cracks me up.. its not really "girl" either.. more like GRRR. GRR.
Head over there and see it for yourself!!!
http://perezhilton.com/2008-09-27-more-k-pop#respond
Last edited by ShenYue! on Tue Sep 30, 2008 2:02 am; edited 1 time in total
Admin





Number of posts

: 1626


Warning

:




Registration date :

2008-01-15



I read all the comments of WG and HyoRi and I find it funny how after WG was in the blog, all of sudden Asian fans starts "begging" him to listen other artists songs.

What a shame fans. I even find some fans asked him to listen DBSK, Ayumi, KodaKumi, Hikaru, BoA, ect.

wake up die-hard fans, it's not how you promote your idol. They don't even have the intention to enter the US market (yet). and also their taste of music is totally different. you don't want to see any bad comments from western if Perez put it on his blog right??? (remember comments on WG, mostly bad comments compare with compliments and almost half of it are beggings??? what will happen if DBSK is there and got bad comments as well??? Should he die???
SYP Princess





Number of posts

: 227


Warning

:




Registration date :

2008-05-22



OMG! the comment on DBSK really cracks me up.. it's so true in a way and i really worry for Perez Hilton if he doesn't post any of DBSK's song any sooner. sometimes the cassiopeias do get a bit out of control.

i am a die-hard DBSK fan and i hope that he will list their songs soon, since his blog gets so much 'attention' every day...
Newbie





Number of posts

: 8


Warning

:




Registration date :

2008-09-08



The comment on Cassie is so true. It's so hard to give a slightly bad comment about DBSK without getting 'scolded' by their die hard bias fans.
_________________
Jay Chou ♥ Let's go for another millions with Capricorn!
Moderator





Number of posts

: 1293


Location

: ~ Underneath the Blue Sky ~


Warning

:




Registration date :

2008-01-16



The comments were SO immature.
The fact that a Korean artist was mentioned on the blog seems so awesome and dignifying but it's not.
The fact that some people think its SO cool is what makes some Westerners think they're GODLY.
The fact that some think they're so GODLY makes them make fun of your favorite artists.
The reason there were racists comments is because some people don't know how to do anything that they beg for Perez to put their favorite artists on the blog when the artists [like DBSK, Koda Kumi, BoA] DON'T I REPEAT DON'T need any help being promoted because they are in TOP Entertainments in Asia...which makes Asian entertainment seem little & underestimated & that also makes your artist seem low..as if no one knows them ..but come on....DBSK has a HUGE fanbase & some people that don't know them probably think they don't have much fans because others are begging others to be their fans...what a disgrace to Asian music & asian people like I...
SYP Candle Queen





Number of posts

: 527


Age

: 108


Location

: United States


Warning

:




Registration date :

2008-03-23



my gosh, these ppl ........ they are making J- pop / K-pop WORST!
SYP SuperFan





Number of posts

: 2184


Location

: Canada


Warning

:




Registration date :

2008-01-18



the people who comment (not unlike some people on this blog) always write immature things--- i wouldn't let it bother you.
we don't need people to like the music we like, personally i like being the only person i know who LOVES K-Pop!!
SYP Princess





Number of posts

: 216


Location

: New York


Warning

:




Registration date :

2008-02-11



OK. To promote a singer is totally diff than begging. Can't fans tell the difference?
As Otjien said, u wouldn't want them to recieve negative comments from anyone esp. since they're music hasn't reached the US market yet! It's like, giving ppl a chance to judge before even knowing what's really going on.
SYP Candle Queen





Number of posts

: 713


Age

: 30


Location

: Dubai, United Arab Emirates


Warning

:




Registration date :

2008-07-19




---
Permissions in this forum:
You
cannot
reply to topics in this forum